I may receive a commission if you purchase something mentioned in this post. More details
here.
Have you heard of Shakshukah before?
When we were in
London for three days of eating
, one of the highlights was a Mediterranean breakfast at Fernandez & Wells. Amelia had morcilla sausage and two fried eggs, while Jeff and I each had a small skillet of incredible eggs poached in tomato sauce. I don't think they called it shakshuka on the menu, because I'm pretty sure I would have made a note of it. Shakshukah is a popular dish in Northern Africa, and there are many different versions of it out there– also spelled chakchouka or shakshuka. It wasn't until I saw
this post
from David Lebovitz, that I was sure what the name of the dish was I'd been missing. As soon as I saw the pictures, I had intense hunger pangs.
I went to bed thinking about it, and woke up the next morning with firm resolve to make it. Rather than waiting till a more reasonable time, I made my family get dressed and walk to the supermarket with me, so I could buy the ingredients to make it for breakfast. Everyone decided it was well worth the effort. The recipe I followed, more or less, was the one adapted from
Jerusalem
(who's author
I am kind of crazy about
) by David Lebovitz.
Print
Shakshukah: Edible Mediterranean Sunshine
Shakshukah is a wonderfully fragrant and pungent Middle Eastern dish of eggs poached in a flavorful tomato sauce. It's great for any meal of the day!
Author:
Category:

Breakfast

Cuisine:

Middle Eastern
1

medium onion, peeled and diced

3

cloves garlic, peeled and thinly sliced

1/2

–

1

chile pepper, stemmed, sliced in half and deseeded, finely diced/minced (I actually substituted some dried aleppo chile flakes)

1 1/2 teaspoons

salt

1 teaspoon

freshly ground black pepper

1 teaspoon

smoked paprika (or sweet you can substitute sweet)

1 teaspoon

caraway seeds, crushed

1 teaspoon

cumin seeds, crushed, or

3/4 teaspoon

ground cumin

1/2 teaspoon

turmeric
two

14

-ounce cans of diced or crushed tomatoes  (you can also use fresh– highly recommended when they're in season– but cooking time will be a bit longer)

2 tablespoons

tomato paste

2 teaspoons

honey

1 cup

(

20g

) loosely packed, roughly chopped greens– I used tatsoi this time

4 ounces

(about

1 cup

,

115g

) feta cheese, cut in generous, bite-sized cubes (optional)

4

to

6

eggs
a small bunch chopped fresh parsley (cilantro would also be good)
Instructions
1.   Heat the oil in a large skillet or a pot, and add the diced onion.  Sautee´ for three minutes or so, add the garlic, and cook for another minute.
2.  Add all of the spices to the onion mixture, and cook until very fragrant, about two minutes.
3.  Add the tomatoes, tomato paste, honey, and cider vinegar, as well as the salt.  Let it cook down for  about 15 minutes, adding the greens halfway through.  Use a spatula to scrape the sides and bottom or the pan now and then.
4.  Once the sauce has thickened, taste for saltiness and acidity, and adjust the seasonings.
5.  Now, you have a couple options– you could cook all of the eggs together in the skillet, or you could make up individual servings.  I chose the latter option.
6.  Spoon the tomato sauce into individual skillets or oven-safe dishes.  Press chunks of feta into the sauce at regular intervals, and then make little wells to accommodate the eggs.  Crack your eggs into the tomato sauce, and run a spoon through the whites to let them mingle with the sauce (but don't break the yolks!)
7.  You can bake these off in an oven, or cook them on the stovetop.  Gently simmer them on the stovetop for about 10 minutes, checking that the whites get cooked through, but the yolks stay soft.  I find that covering them helps.  Or, you can bake them in the oven at 375º for 10-15 minutes.  Again, you are watching the yolks, so they don't overcook.  Garnish with plenty of fresh parsley.
Notes
Traditionally, this dish is served with lots of crusty bread to mop up the tomato sauce with.  That sounds really good!  We are working with gluten allergies, however, so we improvised with broiled eggplant slices, which did the job very nicely.  You could also try this grain-free flatbread recipe.
No one spoke at the table until Amelia looked up from her plate rather dreamily and said, "Mama, there is only one thing I can say about this… YUM."  It was just as good as I had imagined it in my mind. This dish is like edible sunshine– the colors are bright and rich, and flavors warm you from the inside.
I saved about a cup of the sauce, and last night I used it to make a really wonderful frittata. I highly recommend doing that, and next time I'll double the tomato sauce recipe, so we can make this for breakfast again quickly. My stomach is growling right now as I write this out. I think we'll have to make another trip to the grocery store before Saturday morning!Have you had Shakshukah before?
Did you enjoy this post? Share it and pin for later!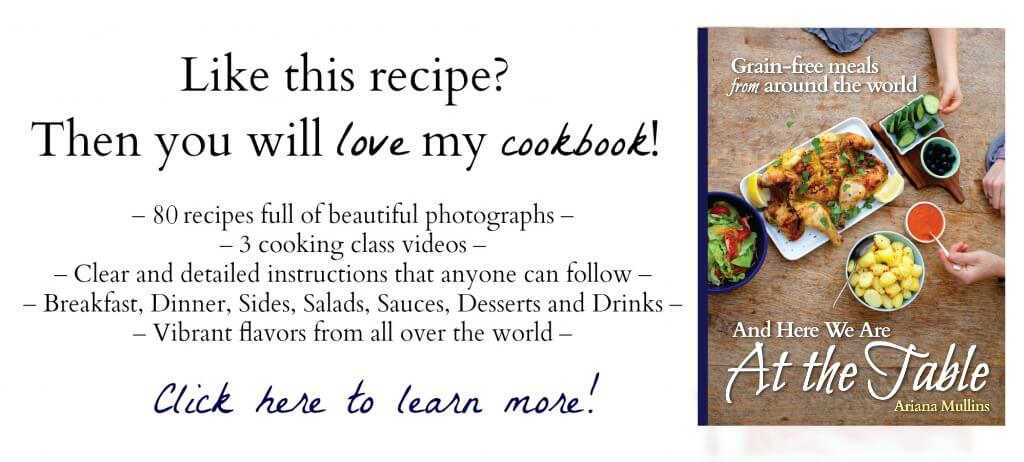 Save
Save
Save