I may receive a commission if you purchase something mentioned in this post. More details
here.
Are you wondering what to do with sage? A couple of years ago, I planted a very small, inexpensive sage plant in the corner of one of our raised beds. And it grew. And grew. And grew. And now, I have SAGE. Lots and lots (and lots!) of sage! I keep cutting it back, and it keeps trying to take over our whole raised bed.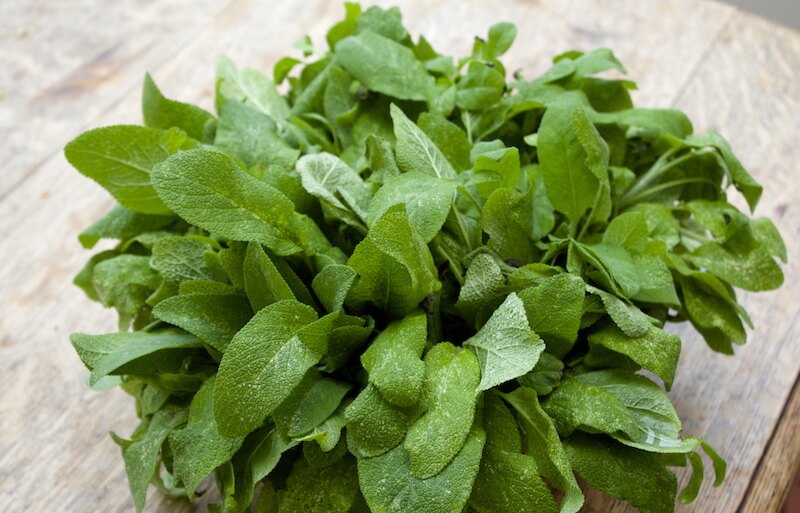 A couple of evenings ago, I cut a whole bunch off, and made little bundles of sage to sell, as I've seen lots of people do here. After two days of trying, at 25 pence per bunch, we had one taker. Time to figure out what to do with sage, sage, and more sage.

It turns out that sage is a fantastic herb to have too much of. It is one of the earliest known medicinal plants, and has so many uses. The name salvia which is derived from salvare, the latin word for healing is a great indicator of its history of medicinal use. In fact, there was a Roman saying, "Cur moriatur homo, cui salva crescit in horis?" – "Why dies the human when salvia grows in his garden?"  It can be used internally and externally, for all sorts of maladies. Here are some of the issues sage has been used medicinally to treat (the short list!)
Conditions Treated with Sage

asthma
bacterial & fungal infections
calming and stimulating the nervous system
candida
colds
coughs
encouraging healing
gastrointestinal upset
gingivitis
headache (nervous)
hot flashes (menopausal sweats)
improving memory
indigestion
intestinal infection
insect bites
joint paint
liver complaints
oral inflammation
rheumatism
skin, throat, mouth and gum infections
soothing the digestive tract
stimulating upper digestive secretionss
strengthening the nervous system
throat infections
Taken internally or as a gargle or mouthwash
*note that sage should not be used by pregnant or nursing women or by people who have epilepsy
That's quite a long list! So, I wanted to find some ways to keep sage available to easily use as a medicine, and then other ways to just preserve it for use in the kitchen. It should be noted here that extended over-consumption (more than 15g per day) of sage can be problematic, as it contains a compound called thujole which is toxic. So be reasonable!
So far, I have preserved it in four different ways. I'll share those with you, then a good roundup of a bunch of other (ahem…) sage ideas for using this herb.
First, I made a Sage and Honey Cough Syrup. This is so simple to do, and makes a great medicine and a nice herbal honey for desserts or cocktails.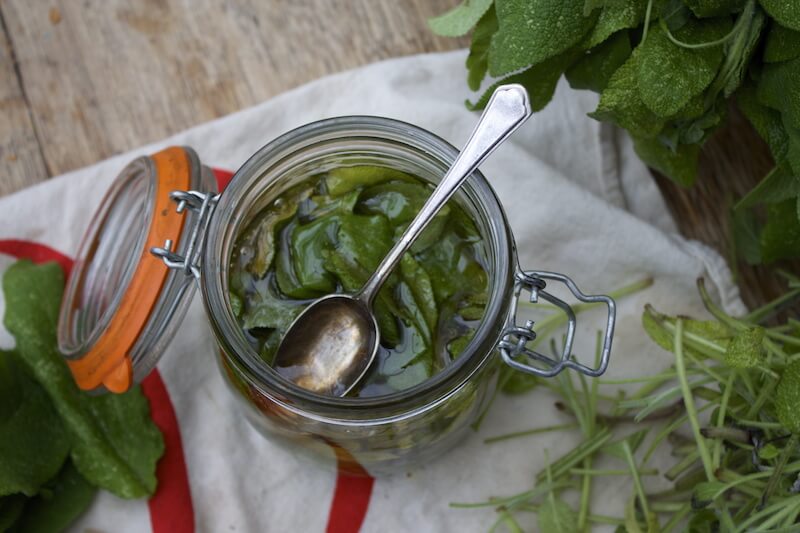 Next, I made a medicinal sage tincture. This is also extremely simple.
How to Make Sage Tincture
Wash and thoroughly dry your sage leaves.
Roughly chop them and put them in a glass jar that can be tightly sealed.
Pour vodka or another pure spirit over to cover.
Cover tightly and put it in a dark place (like your cupboard) for three weeks or so. Shake daily.
Strain out the leaves and put in a dark glass containers like these.
Uses of Sage Tincture: There are a lot of ways you can use sage tincture, and it's a great thing to have on hand in your first-aid kit and for making personal care items. To read more about how to use your tincture, look here and here. I am not an herbalist, so I can't give too much instruction, but it's definitely worth looking into!
As an antibacterial mouthwash, and to help heal sore throats and tonsilitis
In a spray bottle as a deodorant (it is a treatment for hyperhydrosis)
As a toner for oily skin
Applied topically to treat eczema and skin rashes, and to relieve bugbites
Applied externally to treat bruises, sprains, and swelling
Used in hair care products for healthier hair and to decrease hair loss (It can also darken hair color for some.)
I used a couple of bunches for making sage salt. This was easy to do.
I finely minced about 1/4 cup of sage, then tossed it with about a cup of maldon sea salt. To keep the fresh leaves from making the the salt too moist, I put the jar on top of one of our radiator for a couple of days. You could also put it in the oven with the pilot light on, or some other warm, dry spot.
Lastly, I dried lots of sage for tea. Clean your sage leaves, make neat little bunches, and wrap the ends with twine or a rubber band. Hang someplace dry and airy. When the leaves are completely dry, you can crumble them between your fingers into a bowl, or use a mini-chopper to cut it into the right texture for brewing tea. Store it in a tightly sealed glass jar. I have a cupboard full of dried herbs and berries for making herbal tea blends with– it's fun!
Here is a round up of other ideas for what to do with sage.
What am I missing here? What do you like to do with sage?

Sources: https://www.herbwisdom.com/herb-sage.html, https://www.aromantic.co.uk/buy-sage-tincture-organic-uk.htm