I may receive a commission if you purchase something mentioned in this post. More details
here.
I've said it before, and I'll say it again– warm weather makes me crave certain flavors. And usually ones that I enjoyed while living in Los Angeles. I have had a lot of hankerings for Mexican / Central American food lately. I was thrilled to find tomatillos at the organic stand at our local market last week, and immediately knew exactly what I wanted to do with them. Roasted Tomatillo Salsa. This is so easy and good– you can probably go from ingredients to salsa in 10- 15 minutes flat.
Roasted Tomatillo Salsa
What You'll Need:
about a dozen tomatillos, husks removed
3-4 medium tomatoes
two onions, cut into quarters (I used a spring onion I had on hand, too)
a hot chile, cut in half– optional (I would have used it if this was just for me!)
2 limes
one small bunch (about 1/4 cup packed) cilantro
salt and pepper
In terms of equipment, a blender or food processor is perfect, plus a baking sheet you can put under your oven broiler.
What to Do:
Cut the tomatillos and tomatoes in half, and place cut-side down on the baking sheet.
Arrange the onions on the pan as well, and the chile, if using
Place the baking sheet under your oven broiler, on full blast. Broil until the veggies are turning brown and bubbly. You may want to turn the onions with some kitchen tongs, for more even cooking– but no need to move the tomatoes around, and that will just get messy. Remove the tomatoes and tomatillos a little earlier than the onions, to let the onions brown a bit more. This should all take about 10 minutes or so.
Put all of the roasted veggies into your blender or food processor, add a teaspoon of salt and the juice of one of the lemons, plus the cilantro, and blend until smooth.
Taste your salsa and adjust the seasoning by increasing lime juice and salt as needed, until the flavor is balanced.Enjoy!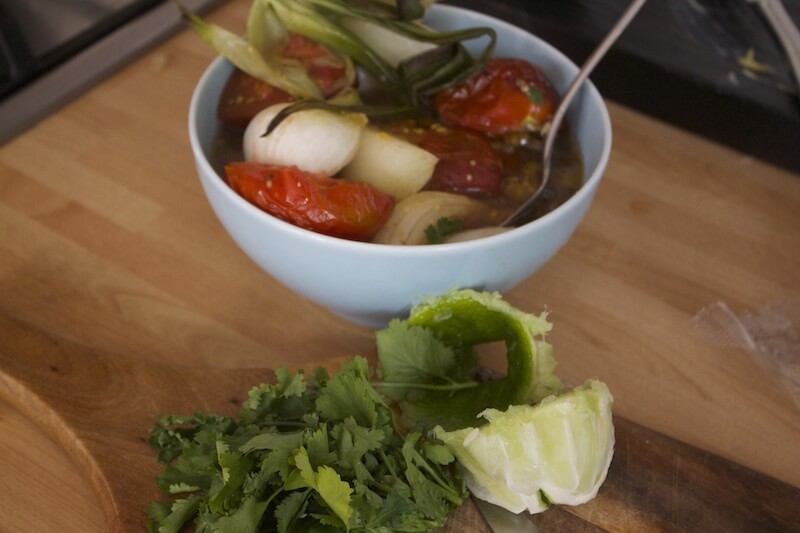 Lately I've been making Chocolate Black Beans, Carne Asada, and this Roasted Tomatillo Salsa. It tastes like home (Los Angeles) to me, and makes me pretty happy. And yes– I will be sharing recipes soon for those beans and my favorite Carne Asada!