I may receive a commission if you purchase something mentioned in this post. More details
here.
As the temperatures get colder, mushrooming season is coming to a close. Making fermented mushrooms is a perfect way to extend the life of your fresh mushrooms, whether foraged or store-bought.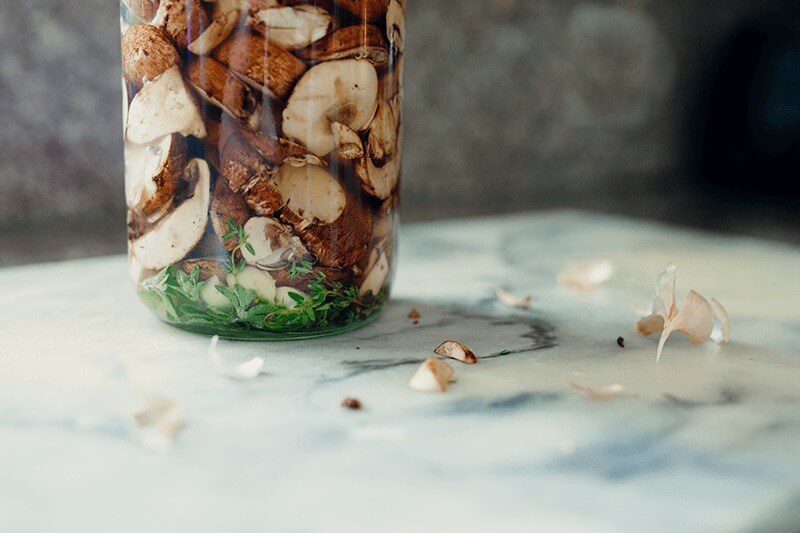 Today I am sharing a recipe from Oh Lardy's Guide to Fermenting Fruits & Vegetables. I think you'll love it.
Making Fermented Mushrooms
What You'll Need

1 or 2 8oz packages of mushrooms (I used about 1 and a half packages of sliced mushrooms)
Fresh thyme (a couple sprigs, depending on your taste)
Fresh marjoram (a couple sprigs, depending on your taste)
Smashed garlic (2 or 3 heads, depending on your tastes)
1 tablespoon sea salt
1/4 teaspoon whey, sauerkraut juice, or culture starter
Filtered water
What to Do:
Place all of the ingredients into a quart sized mason jar.Smash the mushrooms and other goodies down into the jar to get as many in there as you can.
Add filtered water to cover, leaving an inch of head space at the top.
Weigh down your mushrooms because they like to float!
Set on your counter for 3 to 5 days.
Move to your refrigerator.
Tamara and Kelly recommend adding them to morning eggs and to salads. I think they would be great on an antipasti platter, or taken along on a picnic!
If you would like to learn more about fermenting, then I can highly recommend their new ebook, Oh Lardy's Guide to Fermenting Fruits & Vegetables. They have so many great tips for getting started, and will make you feel at ease as you start your kitchen science lab. I love all of their ideas for using ferments, like making salad dressings and all kinds of things I hadn't thought of before.
For you seasoned home fermenters, what was the first thing that you tried fermenting? And for those of you who haven't started yet, is there something in particular that feels daunting about home fermentation?
Save