I may receive a commission if you purchase something mentioned in this post. More details
here.
This is a picture story of the beautiful and absolutely magical hike we took in Ireland last week. This was the first stop we made at Killarney National Park, and it was kind of amazing.
Before I let the pictures do the talking, I wanted to mention that we took this walk with some pretty special people, and that made it all the more fun.
It's rare for me to get to meet other bloggers. Like, really rare… And what are the chances of meeting one of your favorite bloggers…? When you live in another country…? And now,  how crazy is it that one of your most admired peers would actually invite you to join her family on their vacation in Ireland?
Yes, it was extraordinary, indeed. Jenny of Nourished Kitchen and her family welcomed us to the adorable little cottage they were renting, and we said YES. We all went out a bit on a limb, and it was great.
Jenny's son and Amelia are about the same age, both "onlies" and love food and photography like their mamas. It was really fun! I should also mention that Amelia was adorably star-struck at first because she loves Jenny's cookbook (and even did a super-enthusiastic video review.)
And now for the hike… Right from the parking lot, you could hear Torc Waterfall. It was surprising to find something so lovely so close to the road!
From there, we started the upward climb, to the top of the falls. There were lots and lots of stairs, and so many different types of forests and fun views.
It was truly magical– trees thick with wooly moss, enchanted forests, the rich smells of autumnal humus, and MUSHROOMS! How lovely to find ourselves there, in the middle of it all, and with a family that gets just as excited about these kinds of things as we do.
I enjoyed not being the only one stopping to take photos.
   I'm pretty sure that we visited Torc Falls at the perfect time of year– the colors were so perfect.
Here's one of our favorite mushrooms– the Amethyst Deceiver.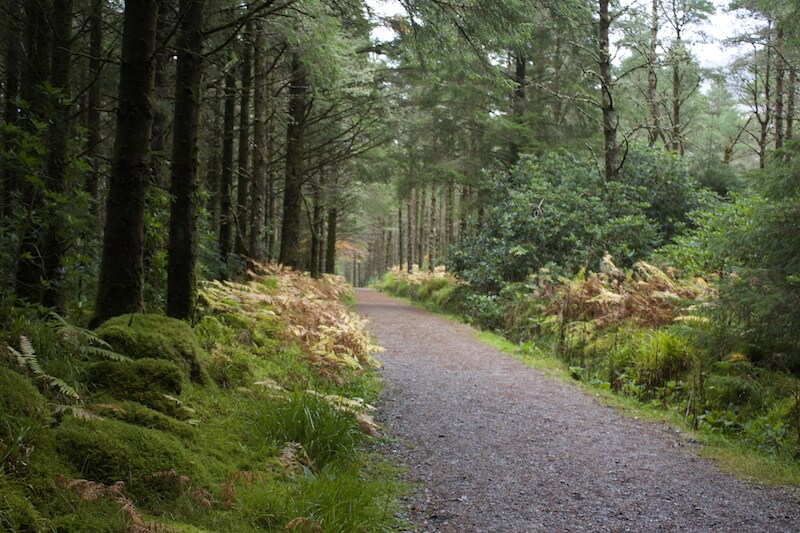 Even with all of these photos, I don't know if I can convey all of the magic we felt there in these woods.
On our way back to the town of Killarney for lunch, we made a couple other stops to soak up the beauty in Killarney National Park. The landscapes were misty, with such a wild and rugged beauty. So gorgeous.
We ended such a beautiful day in one of my favorite ways– good food and conversation. I made stew for everyone on the giant Aga in our cute thatched cottage, and we opened a couple bottles of wine and ate it around a fire in a huge open hearth. (I am such a sucker for those traditional fireplaces!)  We talked about all the sorts of things one hopes to with people of similar values– the joy and privilege of having the freedom to raise our families unconventionally, the importance of food in our lives and communities, and the wonder of being able to connect with so many interesting people in this world. What a gift.
It was a very good day.