I may receive a commission if you purchase something mentioned in this post. More details
here.
In the last couple of years, we have made a lot of wine at home. It's easy to do, and is good, cheap fun. Yes, we have had a few flops (I ended up dumping a few bottles of dandelion wine down the drain) but many of them have been pretty darn good (especially elderberry wine!). Our most successful country wine of 2013 was definitely a batch of Rhubarb Wine that Jeff made, following these instructions. It yielded a beautiful rosé that we and our summer guests thoroughly enjoyed. We were excited for rhubarb season to come, since we had polished off the last of it a couple of months ago.
A lot of the recipes Jeff followed as he experimented with country wines ended up with really strong, really sweet wines that were more in the dessert wine category– but not this one! We felt that it really competed with the bottles of rosé we were lugging back from France whenever we got the chance to drive across the channel. You should definitely try it!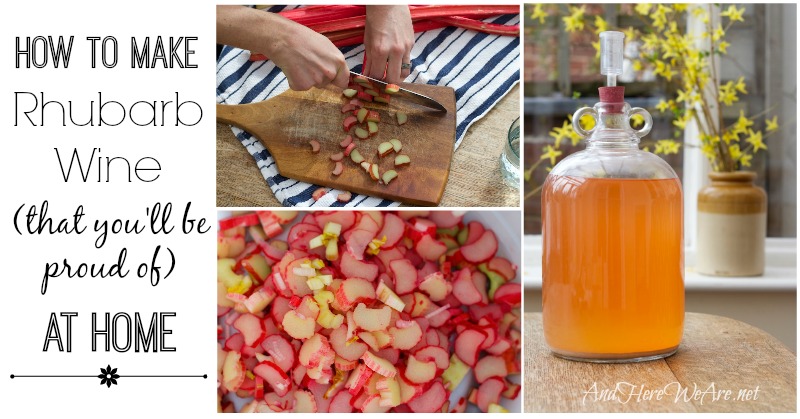 Print
How to Make Rhubarb Wine at Home
You will be so happily surprised by how easy it is to make a truly delicious Rhubarb Wine at home! This easily competes with our favorite rosé wines.
In terms of supplies, there are a few basic items you should have. You can often find these on craigslist, and definitely at a brewing supply store, or you can order them on amazon (the links below take you there).

Instructions
1.  Chop the rhubarb stalk into thin slices, about 1/4 inch thick.
2. Put the chopped rhubarb into your (sterilized) fermentation bucket, and add the sugar and mix it together. Put the lid on your container and leave it for three days.
3. Pound the pulp up a bit with a clean wine bottle or potato masher, then stir in three liters (a generous 3 quarts) of boiled but cooled water. Strain the pulp through a clean mesh strainer of piece of muslin into another clean bucket, add the grape juice concentrate and make it up to 4.5 litres (a generous 4.5 quarts) with more water. Add the yeast nutrient and sprinkle the yeast on top.
Cover this up with the lid, and leave for a week.
4. Using a funnel or a siphon hose, pour into a sterilized demijohn and add an airlock, leaving any dregs behind.
5.  After about a month, "rack" the rhubarb wine by siphoning into another sterilized demijohn. Replace the airlock.
6.  You may choose to rack again in a few weeks, to further clarify your wine. The picture below is where we're at, one month into fermentation. The flavor is developing nicely, but we'd like it to clear some more before we bottle it.
7.  When you're happy with the clarity and there is no more fermentation happening (watch the airlocks for bubbles for a couple of minutes) then you are ready to siphon your rhubarb wine into sterilized bottles. It will be ready to enjoy right away, but waiting will make it better.
Save
Enjoy!
I am already enjoying a glass of Rhubarb Wine as I type this up– it's incredibly gratifying to make good drinks with things that either grew in your own garden or nearby. And, of course, at a fraction of the price. Cheers!
P.S. If you have kids who feel left out of the the home brewing action, you should definitely make up a batch of Rhubarb Soda with them!
Did you enjoy this post? Share it with someone and pin it for later!

Save
Save