I may receive a commission if you purchase something mentioned in this post. More details
here.
We started learning to forage for mushrooms a couple of years ago, starting with a fungi foray. It was a really fun walk through the woods and some heathlands with a mycologist. This was a good starting place, but even if you don't have a mycologist to consult, you can start learning to forage for mushrooms simply by taking a walk in the woods. We are still learning. I thought I'd just bring you along on one of our discovery walks from this past weekend.

I think that learning about wild food simply begins with observation. It's important to start priming your eyes for finding the plants and fungi that grow in your area, with no pressure to eat anything. Although most people would not describe me as "risk averse," some risks are just stupid– like eating a mushroom that you are not 100% sure of. So I am extremely cautious when it comes to eating mushrooms, and am just enjoying the adventure of learning and discovering. Sometimes I do get to eat them, but I never rush into that.
Start by just looking around. This means your walk will be somewhat slow, and I love that. I like to have the chance to notice everything around me, not just power-walk through a beautiful place.
The first thing that caught my eye was not a fungus, but this gorgeous moss that looks like miniature ferns.

Soon after, the mushrooms began to appear. None that we were familiar with.

So I just took lots of pictures. I tried to find them in various stages of growth. This is an important part of being able to identify a fungus, because it can look really different throughout its growth cycle.

It's important to look at the cap, stem, gills and base of the mushroom. I try to get pictures that include all of these, so I can look it up later. This is a Rosy Bonnet.
Another thing to pay attention to is the kinds of trees that are around. If you can get a photo of the leaves on the ground around the specimen, that helps.
So, these little fellows were clearly growing under conifers.

The composition of the woods we walk in changes quite a bit, so this is always good to note.
We saw a lot of these in many places:

The thing we found the most, throughout the forest, were Earth Balls. They look almost exactly like certain types of Puffballs, but inside they are full of greenish-brown spores, and smell like rubber.
And in case you were wondering what happens if you squeeze them a little too hard…
I love the perfect camouflage of these Toughshank Mushrooms…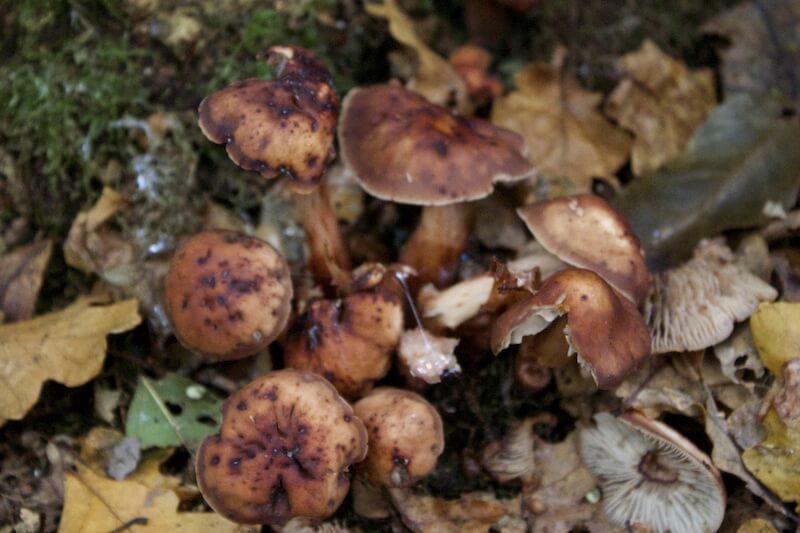 And a some tiny, sweet mushrooms.
One of the fun things about keenly observing the forest floor is that you get to find other interesting things while you're there– like this very festive caterpillar:

Of course, don't just keep your eyes on the ground. There are lots of interesting things growing on trees, as well.
These brackets on this giant old oak were the size of dinner plates.

Here is a Birch Polypore.
And we finally found one that we have been on the lookout for, for a couple of years now: the Beefsteak Fungus. This is pretty good eating normally, but this specimen was really soggy and not worth collecting. But at least we know where to look next time!
Another great place to look for fungus is on dead wood or fallen trees.
Lots of various fungi love to grow here.
Here is some Jelly Fungus I had never seen before. This one looked like licorice chews. (But they are inedible.)
And here's another kind of black Jelly Fungus, called Witch's Butter.

Although we had hoped to come home with a lot of edibles, and were a bit disappointed in that regard, we just enjoyed the beautiful walk and seeing what interesting things were growing all over the place, as well as practicing our identification skills.
The wild food guide we brought was pretty limited– next time we should definitely bring a more complete regional mushroom foraging guide.
At one point, I got really excited, thinking I had found some Porcini mushrooms. But on closer inspection under the cap, I found gills instead of the spongy material of the Boletus species. Since there were no mature specimens around, I couldn't get a good idea of what this might be.

Luckily, right at the end of our walk, I did come across a species I can identify quite confidently– Amethyst Deceivers. You may remember that we collected a bounty of these a while back in a pretty magical birch forest.
There were not very many, but we saw quite a few little ones popping up– we'll have to go back and see if we can get a better harvest this weekend. We brought a handful home, and will dry them and add them into something with more mushrooms later on.
      There were a lot more mushrooms that I could show you, but this is already quite long, and I think you get the idea.
So, to recap…
To Start Learning to Forage for Mushrooms
Take a walk in the woods.  The best time to go is a day or two after it has rained, when the weather is not too cold. Bring a camera and a guide book.
Just start looking around— on the ground, in the trees, and especially at fallen trees and wood piles.
To identify a mushroom, make note of the following: the cap, under the cap color and texture of the gills, the stalk and the base, and the scent of the mushroom. You can also observe whether the color of the mushroom changes when bruised, or if there is any sap coming out when cut/ torn. Notice the location– which trees and plants are nearby. When identifying, paying attention to the time of year is also important.
When you get home, use your photos and any specimens you have collected to research and identify your species of fungus.  If we think we've found something edible, we collect a bit, and bring it home. Then we do meticulous research using guides and google image search.
Don't eat anything until you are sure.  Seriously.    I never eat anything unless I am 100% sure. It's just not worth it. There are some fungi that you can identify pretty safely, that have no other poisonous twins. But even something that appears as obvious as a Puffball mushroom could be a Deathcap in its baby stage. Always research possible poisonous species that could be mistaken for the edible fungus you are looking at. I hope to have a post up soon on the first, easiest mushrooms a beginner should look for!
Just enjoy the process of learning about fungi.  Don't rush into eating, just observe what is around you. Follow the blogs and instagram accounts of foragers in your area, to keep learning about the wild edibles. It's a lot of fun!

 I hope you'll head out and find some mushrooms!