I may receive a commission if you purchase something mentioned in this post. More details
here.
I am making Elderberry Wine!
  I would say "I
made
elderberry wine," but since it's not in bottles yet, I consider the thing still in process. But I can tell you that it is going very well. This was my first attempt at wine-making.
I'll tell you how I am doing it, after scouring a number of recipes online. [Update:  It turned out pretty awesome. It is so rich and nuanced, and has the character of a port wine. Now we're aging it in the basement to enjoy around Christmas time, over a year later. We've been told that it just keeps getting better and better with age, and my main regret is that we didn't make more! But we'll do a bigger batch this year, for sure.]
It all started with
a walk in the woods near our home
on a beautiful afternoon in October. Just as we were about to head home, we found an elderberry grove just loaded with ripe fruit. We picked and picked, and got started on the process for using them almost as soon as we opened our front door.
Making Elderberry Wine
Here are some basic brewing supplies you'll need. You can often find these on craigslist, and definitely at a brewing supply store, or you can order them on amazon.

What to do:
1. Strip the berries off of their stems.  The quickest, easiest way is to use a fork. Or, if you have an hour or two, you can freeze the stems and then just shake the berries off into your bowl.
Kids love making wine! This is the perfect task to get them involved in.
I actually waited a few days until I got to step two, but I would recommend you get on with it sooner– mine began to ferment and develop a yeast that I had to kill off by boiling– luckily, I still got away with it!
2.
Put them in a pot and mash them a bit
— I used an old tequila bottle.
3.
Cover the berries in water, and bring them to a boil.
  Let them simmer for a little while (15- 30 minutes.)  Add sugar equal to the original weight of the berries.
4. Let the elderberries cool, and then put them into a food-grade plastic bucket.
  I winged it, adding additional water to bring it to what I would guess is a bit under a gallon of water, total. "They" say to add a gallon for ever three lbs. of berries.
Add a packet of red wine yeast, nutriment and citric acid
(I just used lemon juice.)  Cover well, and let them sit there and ferment for 4-5 days.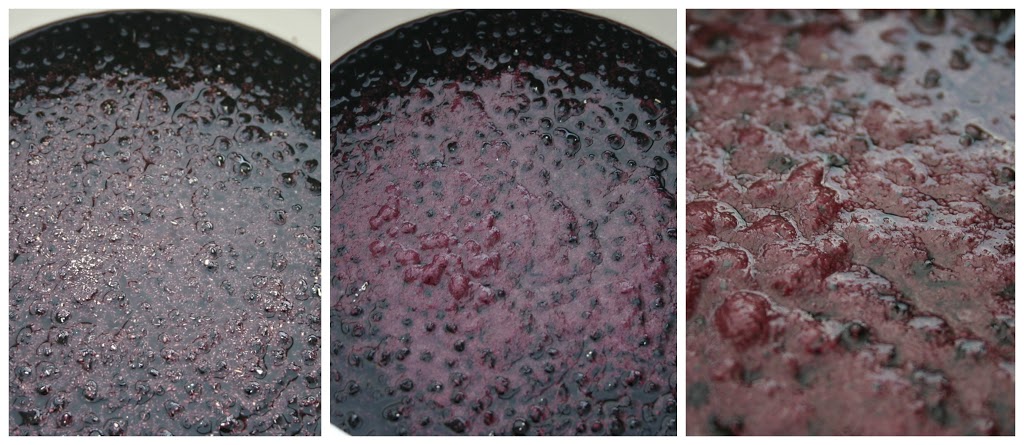 Here is the yeast in action, from adding it to foaming up after a few minutes.
After a few days of fermentation in the bucket, this is what it looked like:
5. Strain the berries out, pouring the liquid into a sterilized demijohn.  Put an airlock on it, and stick it someplace a little warm. I wrapped mine in a dish towel.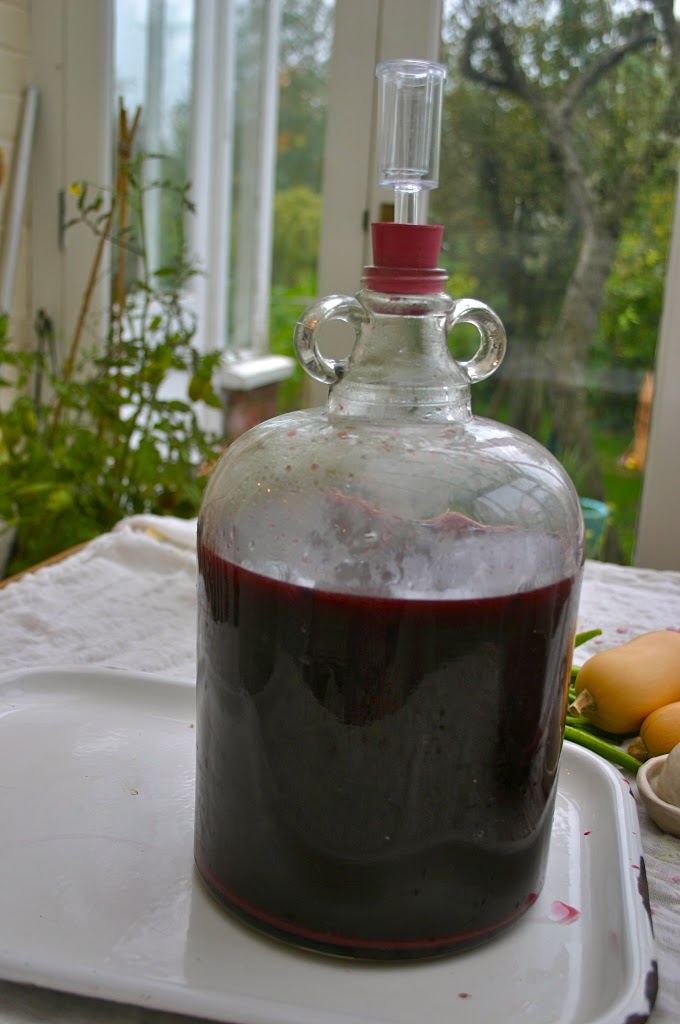 After six weeks, I tasted it. Elderberries are known to be very tannic, and so although it was quite astringent and kind of bitter, it did taste like WINE! It was not sweet at all– the sugar had been fermented, so I added additional sugar (1/2 cup) after the following step:
6. Rack the wine.  This just means to siphon it into another sterilized demijohn. This separates the wine from the yeasty sediment that is in the bottom of the first vessel– the lees. (Pretty though, right?)  Now it's time to let the wine sit in a cooler place– I moved mine into our basement.
I did this a couple of weeks ago. I tasted the wine again yesterday, and it is less tannic, but still tastes very young, of course, and has that slight effervescence of a new wine. But it is good— and very warming!
I don't know if you can see the difference or not, but the first glass is after one month, and the second is after two– the wine is becoming more clear, and it has a really nice color.
In another week, I'll rack the wine into bottles, and let them age… They say you can let elderberry wine age for years, and that it's really incredible. I'm not sure I will wait that long– some guides say it's ready to drink after six months.
Making Elderberry Wine is really pretty easy, and definitely a fun project! Elderberry wine can be made with frozen berries, and it can also include some other types of sweeter berries, so there are a lot of possibilities. As I mentioned in my post about making blackberry cider, I don't have a lot of brewing experience, and don't follow recipes exactly. Even so, this wine is turning out really nicely, so I think you should give it a shot! Here is a site with instructions for making  elderberry wine.
UPDATE: This wine turned out way better than my wildest expectations. It was incredibly rich and smooth, with port-like character after one year. I ended up making a much larger batch this year because we were so sad when we drank out last bottle from this batch!
Have you ever made your own wine? Would you give Elderberry Wine or another country wine a try?
Did you like this post? Share it and pin for later!