I may receive a commission if you purchase something mentioned in this post. More details
here.
These days, the sun is so low in the sky, and it's been dark for two hours or more by the time we sit down to eat dinner. I don't have a lot of time to spend in the kitchen, but I love to have something in the oven, making the house smell so good and comforting at the end of the day. This recipe for Moroccan Beef Stew is something I've been making regularly. It's one of those "cheater" kinds of stews requiring no browning of meat or any kind of cooking diligence. I put it all in the pot, let it cook in the oven, then add some vibrant chunks of butternut squash at the end– for a meal that is bright, warming, and seems like something that took a whole lot more effort than it really did. The ras el hanout is floral and warming, and cooking lemons with their peels produces a flavor that is vivid, pungent and slightly sweet. Just what we need on a cold wintry evening!
Easy Moroccan Beef Stew with Lemons and Butternut Squash
What You'll Need:

3 medium yellow onions, roughly chopped
2 lbs (or 1 kilo) beef cut into 1 inch chunks
1 T sea salt
1 t freshly ground black pepper
1/3 C unsalted butter or ghee
3 cloves garlic, crushed
2 C beef stock (you can substitute chicken or vegetable stock if you need to, or water.)
2 whole, organic lemons (1 of them quartered and thinly sliced, seeds removed)*
*Some people love the pungent, bitter notes that using whole lemons gives, while others do not. If you are unsure, just squeeze the juice from the lemons and zest them. Whatever you do, make sure you keep ALL of the lemon seeds out of the stew!
1 medium butternut squash, peeled and seeded, cut into 1 inch chunks
Optional: greens– I used some beet greens and stems from our garden
1 bunch fresh cilantro, roughly chopped
You will also need a dutch oven or similar pot that can be put in the oven.
What to Do:
Place all of the ingredients except for the butternut and cilantro into your dutch oven.
Bring to a simmer on your stove top over medium-high heat, then move to a 300 oven and cook for 2 hours.
Add the butternut squash and stir into the pot, scraping the bottom with a wooden spoon. If you are using some greens, then now is the time to add the chopped stems, if using. If the stew is already thick, you can add some more liquid. Cook in the oven for 1/2 an hour more, until the squash is tender.
Take your stew out of the oven. Stir it up and taste it. If needed, add extra lemon juice and salt. Stir in the leafy greens, if using. Throw the chopped cilantro in the pot and cover again for a few minutes, until the herbs turn bright green.
Serve over rice (we eat our with cauliflower rice) or eat it on its own as you would a hearty stew. Enjoy!
* Note: This Moroccan Beef Stew can also be made in a crockpot, following instructions for your favorite crockpot stew and adding the cilantro at the end.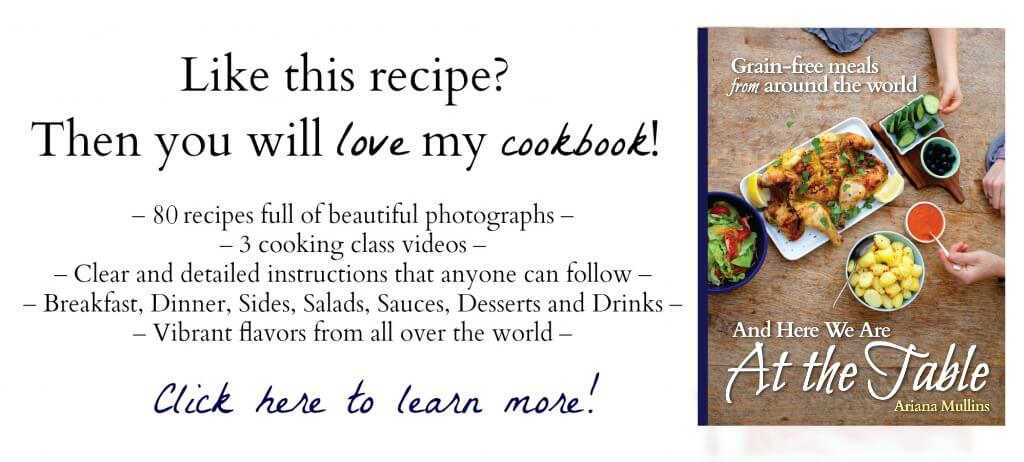 Save