I may receive a commission if you purchase something mentioned in this post. More details
here.
What's your summertime go-to meal? This year for our family, with so much summer heat and busy-ness, it has absolutely been gazpacho. Every Saturday, we go shopping for our food for the week and I pick up tons of tomatoes, red peppers, and cucumbers, and I make a huge batch of gazpacho. We usually eat it on a Sunday afternoon, when we're all worn out from a hot and busy weekend. One of the reasons I love this gazpacho is because it's so easy to make, and it can feed a crowd pretty easily, but keeps for a few days if we don't eat it all at once.
Gazpacho is a cold vegetable soup from Andalucia, Spain– where we live now. It's typically made with tomatoes, olive oil, garlic and bread– from there, the variations abound (here's one of mine!). I like my gazpacho both chunky or smooth– there are so many right ways to do it! This recipe is for a very smooth one, but you can garnish it with diced cucumber for more texture.
The unique thing about this gazpacho recipe is that it uses toasted almonds for body and richness. It's truly delicious, and it might just ruin you for all other gazpachos. Our visitors this year have told me that they ate gazpacho at our house first and then were disappointed by what they got when they ordered it elsewhere in Spain. Sorry (not sorry), everyone!
The Best Gazpacho (gluten-free & grain-free)
Makes about 10 cups.
What You'll Need:
1 cup of toasted, salted skinless almonds*– I use fried marcona almonds, but you could substitute 3/4 cup almond flour (bonus points for toasting it) and add additional salt to taste at the end
2 pounds fresh tomatoes quartered
1 pound fresh red bell peppers roughly chopped and seeded
1.5 pounds cucumbers, peeled and roughly chopped + 1 cup diced cucumber for garnish, optional
3 cloves roasted garlic or 1 clove fresh garlic
1/3 cup Spanish or Californian extra-virgin olive oil
sea salt and freshly ground pepper
2 tablespoons sherry vinegar (Definitely worth getting a bottle of!) 2 tablespoons  or a good quality white wine vinegar
parsley for garnish, optional
In terms of equipment, you will need a food processor or a blender. I prefer using my blender, since I can get my gazpacho smoother with it.
*I know I will get some questions about whether almonds are really necessary in this recipe. They are an important feature– making this gazpacho rich and creamy, and adding some body that is usually created by adding stale bread. That said, you can make this without them, and it will be a great (but different) gazpacho. I also think that using skinned, roasted hazelnuts would be a worthwhile experiment.
What to Do:
If using whole almonds, put them in the blender/ food processor and chop finely.
Combine the first six ingredients in the blender/ food processor, and blend until smooth. (Note: If there is not enough room for everything in your blender, just blend the ingredients in batches– and then combine in a large bowl to mix everything and season.) If it's super thick, then you can add a little water. I usually put about 1/2 cup of water in the blender pitcher after I pour it into a large bowl and use the water to clean the rest of the gazpacho out and thin the soup at the same time.
Stir in the sherry vinegar, then season to taste with sea salt and fresh pepper. Taste and add more vinegar if needed.
Optional: Garnish with any of the following: finely chopped parsley, diced cucumber, and/or a drizzle of olive oil.
If you are serving right away, you can add some ice cubes and stir them in to chill it quickly. If you ware making it ahead, store in the fridge. It will keep for 2-3 days.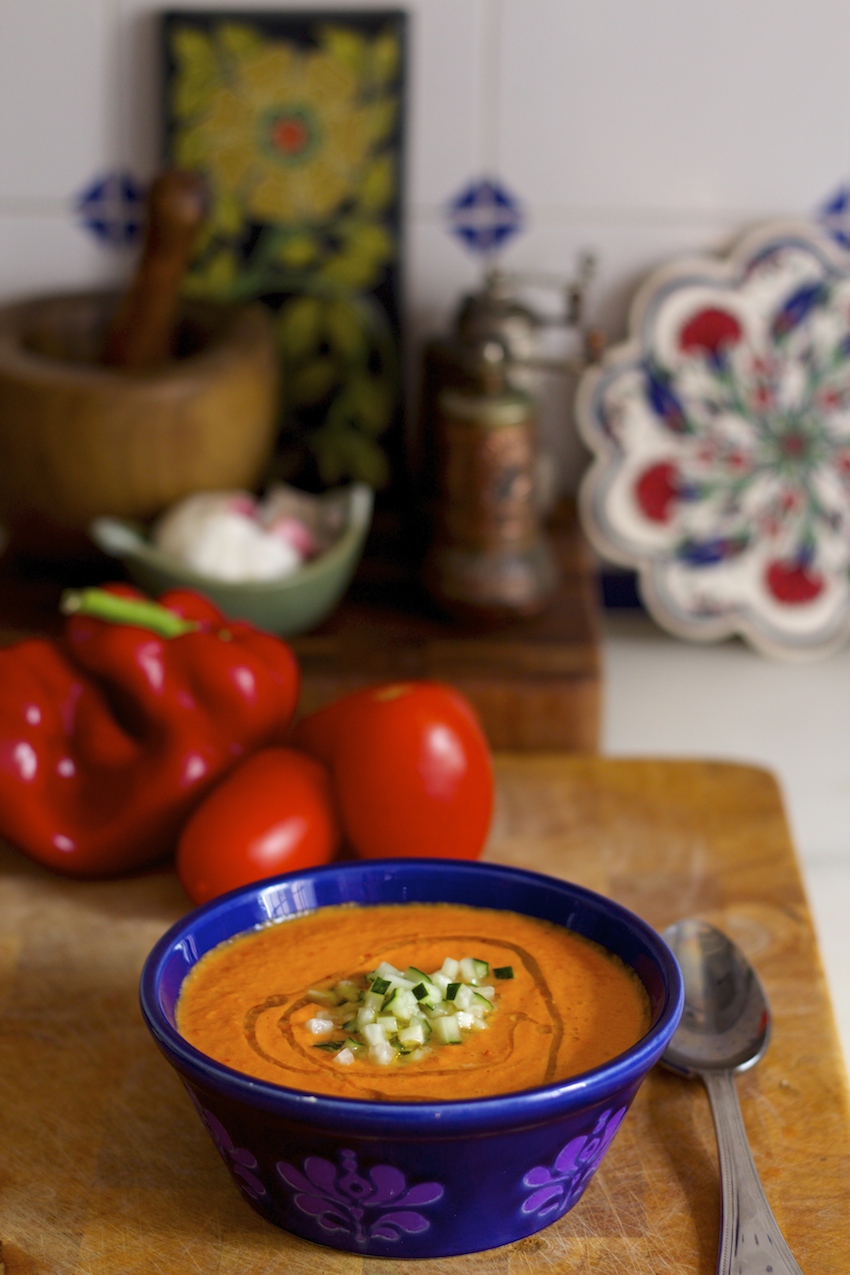 One of my favorite dinners is this gazpacho, some manchego cheese, and potato chips. Bonus points for a glass of manzanilla or fino sherry! You know what else goes great with this meal? Pimientos de Padron!
Enjoy!
P.S. What are you eating lots of this summer?