I may receive a commission if you purchase something mentioned in this post. More details
here.
Let's talk about shopping and bargaining. This is one of those areas that is very influenced by our own cultural backgrounds and experiences. I grew up in the Philippines, where haggling is part of the process of making a purchase, but is done in a very polite way– because shaming or manipulating someone will disrupt the seller-customer relationship, and relationships are very important. It is better to be a good customer– loyal, keen, and respectful, and then the seller will show you favor, save the best items for you, and throw in some nice extras. I love (love!) a good deal, but it's still pretty hard for me to be very aggressive in my bargaining. I am more likely to look someone in the eye and ask them if that is, indeed, the very best price they can offer me. If they say yes, then I will accept it. And when you are a foreigner, shopping in a bargaining country you are just visiting, it's only that single purchase that really matters– the relationship is basically irrelevant. The seller will absolutely try to get as much out of you as possible, and the bottom line is what you are willing to pay at that moment, since the connection pretty much ends after that. I don't like shopping this way very much– I love developing relationships with people, and have a hard time disconnecting the person who is selling me something from the item itself. While shopping in Turkey, I generally knew I was being ripped off. It was my fault for being a tourist– no one would offer me a Turkish price on anything. And the truth is, that seemed fair, in a way.
There I was, on a vacation, with money to spend
.
There they were, trying to feed their families during the low season.
Why shouldn't I pay up? Still, knowing that I was overpaying made the experience much less fun for me.
OK, so this is exactly the sort of place I would usually avoid, but we found our favorite souvenir here!
I am used to shopping in non-tourist markets, and avoid souvenir shops like the plague. In Turkey, though, I had a hard time finding any place that carried things I wanted that were not geared toward tourists. So, I went for it. I did my best to come across as skeptical, and I always asked for a better price. But I did not demand half the original asking price, as many recommended. Often, when I asked for a much lower price, the seller told me that during high season, they charge much more. I kind of believe it, since everyone was so eager to make a sale, yet a bit apathetic toward bargaining and had very little leeway in their prices. I'll show some pictures of the shops here, and then in future posts I'll share what I actually brought home!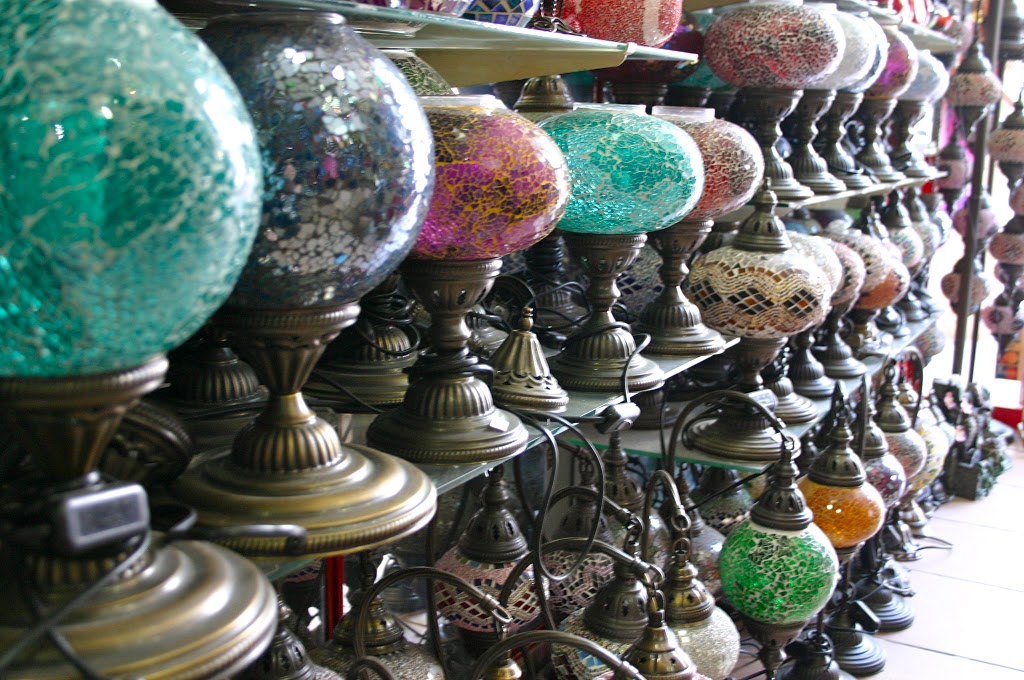 Watch out– if your child looks interested in costumes, she will quickly be turned into a little belly dancer!
So, we did some shopping in these spots… It was pretty tiring, frankly, and I wasn't super happy with the quality and prices in these markets. I kind of felt like a sucker, but it was our last day in Turkey, and I really wanted to bring some things home. I definitely felt the pressure, and just did the best I could. And then we found this unusual place. I'll tell you all about it tomorrow!


How do you like to shop when you travel? How do you feel about haggling– part of the fun, or not so much?