I may receive a commission if you purchase something mentioned in this post. More details
here.
I have always wanted to check out one of the service kitchens in a grand estate. Watching shows like Upstairs, Downstairs and Downton Abbey have made me even more curious– they are always so beautiful, large, and of course incredibly functional. When we found out that we could tour the refurbished 1910 kitchen of the nearby
Ickworth House
, I couldn't wait! We made it into the last showing of the season– the whole house will be closed until spring.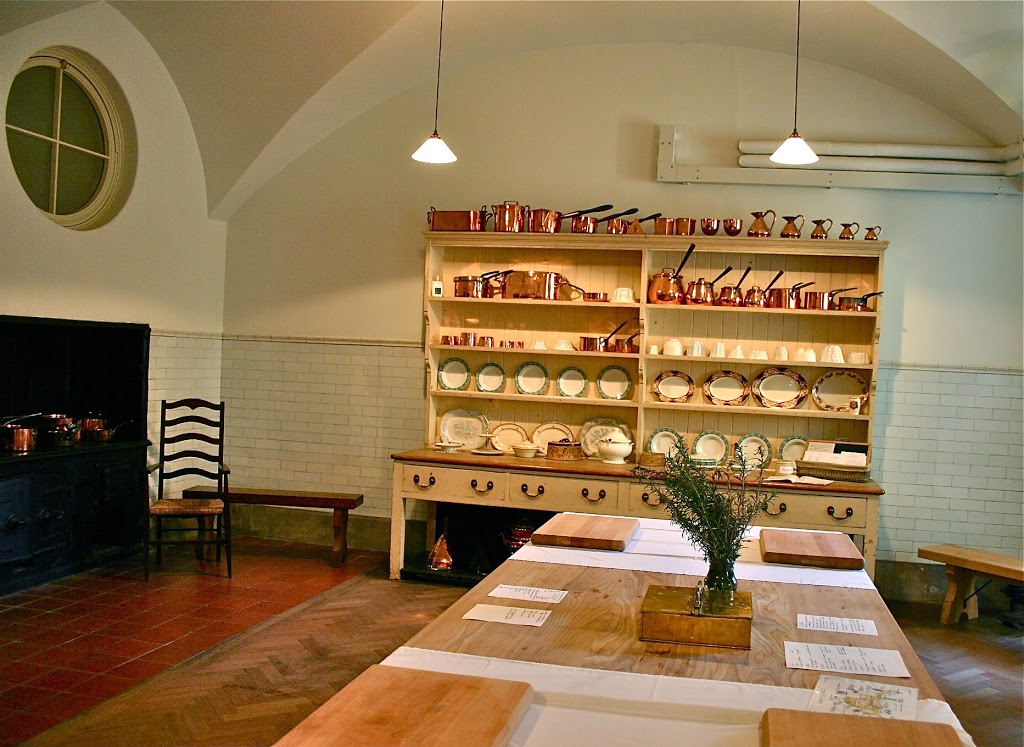 Considering the number of people who must have worked in this kitchen, it was actually a little smaller than I had imagined it! A friend told me today, however, that there are actually
two
kitchens in the basement of the rotunda.
I love antique cooking implements. They are all so well-made and beautiful.
Imagine standing at the window below to peruse the huge cookbook full of classic French culinary techniques, planning out the meals…
Am I the only one who is tempted to open and dig through the drawers when I'm visiting someone's kitchen? 
Amelia and one of the volunteers spent a lot of time opening each one and talking about the contents.
We also opened up the larder.
Now, let's take a moment to swoon over copper pots.
I can absolutely picture myself here, reading a book as I babysit bubbling pots… I wish I had room for a chair in my kitchen!
Another of my favorite elements was the wooden drainboards and backsplash at the sink. I don't know if you can see it, but they have the draining grooves carved into them– so beautiful, and in excellent condition.

Wood herringbone floors and terracotta tiles… Why did we ever start using linoleum?
I can't get enough of those gorgeous blacked wood stoves!
Who wants to move in with me? Also, how many Downton Abbey fans do we have here? It's so much fun to watch from this vantage point!

I have a few more post lined up this week, full of pictures of the Ickworth House. Next, up, we can look at the servants' quarters!
(This post was shared at Monday Mania, Your Green Resource, Real Food Wednesday, and Tasty Traditions.)